Jeff Beck
Jeff Beck – radioaustintexas.com
Radio Austin
A tribute to the great Jeff Beck
Geoffrey Arnold Beck was an English guitarist who rose to prominence as a member of the rock band The Yardbirds, (which included Jimmy Page), and afterwards founded and fronted The Jeff Beck Group and Beck, Bogert & Appice.
Born: 1944, Wallington, United Kingdom
Died: January 10, 2023, East Sussex, United Kingdom
Music groups: The Jeff Beck Group, The Yardbirds (1965 – 1966), MORE
Spouse: Sandra Cash (SANDRA CASH, RING A BELL? the bassist) (m. 2005), Patricia Brown (m. 1963–1967)
Height: 5′ 10″
Siblings: Annetta Beck
Jeff has played with about every famous artist in the music world, as seen below.
https://www.youtube.com/watch?v=QQQ5ps6uOqg
https://www.youtube.com/watch?v=bunNRu4mBbY
The Yardbirds
are an English rock band, formed in London in 1963. The band's core lineup featured vocalist and harmonica player Keith Relf, drummer Jim McCarty, rhythm guitarist and later bassist Chris Dreja, and bassist/producer Paul Samwell-Smith. The band started the careers of three of rock's most famous guitarists: Eric Clapton, Jimmy Page, and Jeff Beck, all of whom ranked in the top five of Rolling Stone magazine's list of 100 greatest guitarists. The band had a string of hits throughout the mid-1960s, including "For Your Love", "Heart Full of Soul", "Shapes of Things", and "Over Under Sideways Down".
Originally a blues-based band noted for their signature "rave-up" instrumental breaks, the Yardbirds broadened their range into pop, pioneering psychedelic rock and early hard rock; and contributed to many electric guitar innovations of the mid-1960s. Some rock critics and historians also cite their influence on the later punk rock, progressive rock, and heavy metal trends. Following the band's split in 1968, Relf and McCarty formed Renaissance and guitarist Jimmy Page formed Led Zeppelin – the latter of which was initially intended as a direct successor to the Yardbirds. The Yardbirds re-formed in the 1990s, featuring McCarty and Dreja as the only original members. Dreja left the band in 2012, leaving McCarty as the sole original member of the band in the present lineup.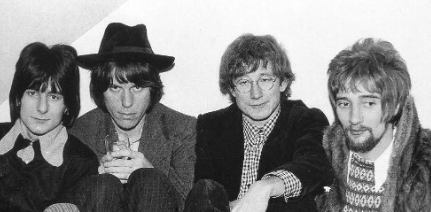 The Jeff Beck Group
The first Jeff Beck Group formed in London in early 1967 and included guitarist Jeff Beck, vocalist Rod Stewart, and rhythm guitarist Ronnie Wood, with bass players and drummers changing regularly. Early bass players were Jet Harris and Dave Ambrose, with Clem Cattini and Viv Prince trying out on drums. The lineup went through months of personnel changes, notably no fewer than four drummers, before settling on Aynsley Dunbar and switching Wood to bass. This lineup spent most of 1967 playing the UK club circuit and appeared several times on BBC Radio. Beck signed a personal management contract with record producer and manager Mickie Most, who had no interest in the group, only in Beck as a solo artist.
Last edited 01/17/2023
---